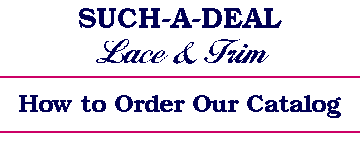 SUCH-A-DEAL Lace & Trim offers a paper catalog
which is available for $5.00 (US). You may order
one via postal mail with a check or money order.

We do not accept charge cards for the catalog.

We refund the $5.00 fee with your first order.

Please be sure to include your name and mailing address with your request.

---




SUCH-A-DEAL LACE & TRIM PAPER CATALOG

This black and white catalog includes our wide assortment of raschel laces, cotton laces,
venise laces, re-embroidered laces, embroidered sheers, eyelet laces, pearls, satin roses,
ribbons, doilys, Battenburg laces, metallic braids, rayon guimps, fringes, elastics, and more!




---




To order a paper catalog send a $5.00 (US) check or money order to:

SUCH-A-DEAL Lace & Trim
14153 Billowy Way
Caldwell, ID. 83607-8315
USA



International catalog requests are $10.00 (US) each
(Credit Card or Money Order in US Dollars only).

Please be sure to include your name and mailing address with your request.


---




Back to Top Order Form Home

---

Copyright © 1996-2021 SUCH-A-DEAL Lace & Trim - Last updated 1/28/2021

---